I'm going to need to make a habit of blogging my films immediately after I see them, or this year is going to be quite unsuccessful!
Last week I watched 4 films, and this week, owing to a family tragedy I have spent a lot of time in the house with my cousins needing some light entertainment, explaining films number 6 and 7!
#2 Cat on a Hot Tin Roof:
This screen adaptation of Tennessee Williams' hit stage play features Elizabeth Taylor with an immensely skinny waist and dresses to make any girl jealous. This is the first 'old' film I think I've watched on purpose. And I must admit I quite enjoyed it.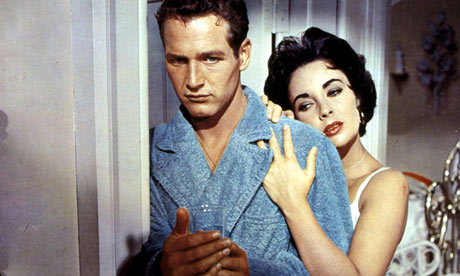 #2 Cat on a Hot Tin Roof
Film: Cat on a Hot Tin Roof
Director: Richard Brooks
Released: Sept 1958
Watched at: Home
***/*****
#3 Charlie Wilson's War:
I honestly have no idea what to say about this. I was bored from start to finish; its only saving grace was the fact that it was only 97 minutes long! I'm not opposed to political films, in fact I quite like them, but I found this slow and clumpy. Tom Hanks and Julia Roberts just didn't do it for me!
#3 Charlie Wilson's War
Film: Charlie Wilson's War
Director: Mike Nichols
Released: 2007
Watched at: Home
*/*****
#4 The Great Gatsby:
One of my favourite books of all time, so it's a surprise I haven't actually seen this before. Robert Redford and Mia Farrow in all their beauty do a good job at portraying the hopelessly obsessed Jay Gatsby and the beautiful but unhappy Daisy Buchanan. The glamour and lose morals of the extravagant 20's and 30's. Very true to the book, which at times was to its detriment as the story was dragged out at points. Overall an enjoyable watch and left me very much looking forward to Baz Luhrman's offering later this year.
#4 The Great Gatsby
Film: The Great Gatsby
Director: Jack Clayton
Released: 1974
Watched at: Home
***/*****
#5 The Dungeon Masters:
I do love a weird documentary and they don't get much weirder than this one! The film follows a number of 'gamers' as they play Dungeons and Dragons, a popular strategic RPG (Role Play Game) It looks at how they cope as their fantasy lives clash with the real world. Slow in places, this documentary lacks the compelling narrative that other documentaries of this nature need. But overall and interesting look into this strange world.
#5 The Dungeon Masters
Film: The Dungeon Masters
Director: Kevin McAlester
Released: 2008
Watched at: Home
**/*****
#6 My Big Fat Greek Wedding:
A firm favourite of mine, it's a bit like a big tub of Ben and Jerry's and a class of Coke- ultimate comfort viewing! The sugary sweet and predictable narrative always makes me laugh and the Greek family reminds me a lot of my own crazy extended family, living in each other's pockets and sharing all elements of our lives. A 4* rating from me :)
#6 My Big Fat Greek Wedding
Film: My Big Fat Greek Wedding
Director: Joel Zwick
Released: 2002
Watched at: Pancake House
****/*****
#7 RV- Runaway Vacation
: Robin Williams stars in this silly family comedy. 'Peeta' from the
Hunger Games
and 'JoJo' of noughties pop fame play Williams' disconnected kids. Familiar faces also pop up in the form of 'Spencer' from
Criminal Minds
and 'Annabeth Schott' from the
West Wing.
This silly, slapstick comedy had us in stitches- exactly what we needed this week. But no amount of tragedy could convince me to give me this film more than 2 stars!
#7 RV- Runaway Vacation
Film: RV- Runaway Vacation
Director: Barry Sonnenfeld
Released: 2006
Watched at: Pancake House
**/*****